India is one of the "miracle" economies in Asia witnessing speedy growth and the country needs to strategize its 12 "champion" sectors in intensifying this growth strongly, in which the exporters community plays a critical role, according to Union Minister for Commerce and Industry Suresh Prabhu.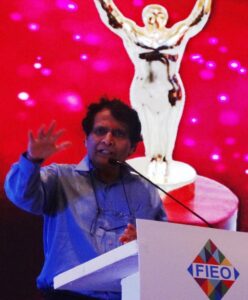 Noting that exporters create a very fine footprint and an 'ecosystem' for supplying products globally, the Minister – who was in Mumbai recently to present the Federation of Indian Export Organisations (FIEO) awards to top exporters — said his focus was on faster growth of the Indian economy and export promotion. "India is one of the miracle economies in Asia that is growing fast and promoting global trade-driven growth. We are also working upon a US$ 5 trillion economy — comprising import-export put together – export-driven growth rate for India," he said, adding that around US$ 3 trillion GDP was expected from the domestic sector.
Emphasizing for more services to be exported globally, he said "We must strategize our 12 'champion' sectors which have been identified and allocated Rs 5,000 crore by the Prime Minister. I am looking at how much 'incentive' we will get for my industry. The Government's job is restricted to promoting policy and the FIEO has to work as a team to provide ideas and strategy, increasing exports, developing new products and territories, and innovation through Make In India."
"We must sell in big countries but not ignore the smaller nations where business is concerned. I have spoken to the UAE and Saudi Arabia including urging them to make investments in India, in agricultural export products, fruits and vegetables that can be exported without affecting domestic consumption."
"E-commerce is a reality that is needed in a big way and we must also promote trading houses. Logistics has been a cause of major concern and the Prime Minister is focused on it. The GST issue has also been taken up where I talked to the Finance Minister about refunds not being given and I will try to get it back. We also need to ensure that bankers and exporters talk to each other," the Minister said while also highlighting 'domestic' production of products, where quality mattered in avoiding damage to the exporter's and country's image.
He said for the future of exports, the fraternity should endeavor on how to reach the +higher plane of existence+ and outline what enablers are needed for India to be a hotbed of innovation and leader in technology to fulfill people's aspirations. The exporting patterns over the years have witnessed paradigm changes following the old barter system to today's where a bulk of business takes place over the web, he said.
Noting that the FIEO is carrying out the role very proactively in the area of export development and has been advocating progressive measures that should be incorporated in the national trade policy, the Minister said "I am willing to walk that extra mile with the exporters to enable their success in promoting exports in a big way."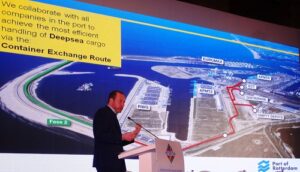 Talking about the WTO, Prabhu said the WTO has to survive and India is a leading country that is promoting WTO for exporters. "We are working on many strategies and this is part of our mission to make India grow and become the third largest economy in the world. So WTO also has restrictions and within that export regime, we must be clear in our objectives and work in partnership. The government will promote, support and provide you an umbrella to work under, but you have to innovate and work together in a clear-cut vision to ensure that India becomes a leading player in the global market," he said.
The FIEO, which is the apex body of all export promotion organisations in India and was set up by the Ministry of Commerce in 1965, serves as a platform for promoting Indian trade globally, besides also as an interaction platform between exporters and policy-makers.
Earlier, Ganesh Kumar Gupta, President, FIEO, described the past few years as being 'challenging' for Indian exports, though the FIEO kept focus on maintaining pace with the country's flamboyant economy and dynamic policy environment to provide the content, direction and impetus to promote India's exports globally. Currently, the Indian economy is witnessing a paradigm shift with financial restructuring initiated by the Government and global trade scenario also showing positive signs of recovery, he said, adding "I am sure these green shoots will enable many more exporting enterprises to charter an exponential growth path."
"Indian states have to play a pivotal role in promoting exports and the FIEO is working with Gujarat, Maharashtra, Goa and other states to identify products for export to potential markets in the present win-win situation," he said.
Purnendu Shekhar, Founder and CEO, Cogoport, said "We face challenges in "Moving Ship," Transparency and Convenience. So we thought of using technology to change this by co-creating this product (COGOPORT) with our customers and now we have 27,000 KU moving around, including through our biggest base in Gujarat. Today, pan-India customers can use our Cogopost online to move their shipment anywhere globally s we have invested a lot in this technology for providing a seamless experience."
Dr Ajay Sahai, DG & CEO, FIEO, noted that GST returns data of Maharashtra and Gujarat alone accounted for about 40% of India's exports, which made the regional Export Awards by FIEO Western Region stand out of league.
Khalid M Khan, Regional Chairman, FIEO (WR), said that FIEO has tried to create a level playing field for promoting exports from India. "Infrastructure deficiencies and other problems adversely affect our competitiveness in the global market and COGOPORT is providing a one-step solution for logistic needs. Around US$ 302.84 billion (indicating 9,78% growth) exports took place in last financial year, but still the growing trade deficit is area of concern and the need of the hour is a permanent solution," he said while urging the Minister to give FIEO support in its efforts to surpass US$ 500 billion next year.
Alexander Philipsen, Business Manager Containers, Deepsea and Feeder, Port of Rotterdam (Holland), highlighted the port's traffic movement of 30 million consumers in barely two hours, besides container throughput growth of 10.9% in 2017, and the changing global logistics scenario.
The FIEO WR award-winners include: Jyotindra International, TATA Consultancy Services Ltd, Reliance Life Sciences Pvt Ltd, Al-Quresh Exports, Kiran Gems Private Ltd, Janus Global Trade Pvt Ltd, Ashapura International Ltd, Indore Composite Pvt Ltd, Prem Textiles (International) Pvt Ltd, Jagannath Herbal and Foods Ltd, Bagadiya Brothers Private Limited, HDFC Bank Ltd, Umed Sizers, Sarah Exim Pvt Ltd, Allana Sons Pvt Ltd, Serun Institute of India Pvt Ltd, Gokul Overseas, Ajanta Pharma Ltd, Sopariwala Exports Pvt Ltd, Deccan Overseas Pvt Ltd, Aditi IT Services Pvt Ltd, Ashapura Perfoclay Ltd, P P Bafna Ventures Pvt Ltd, Shree Raghavendra Agro Processors and $SPID Consultancy India Pvt Ltd.