In a first of its kind collaboration between International Indian Film Academy (IIFA) and Osian's Connoisseurs of Art Pvt Ltd, the latter will hold the "first Cinema Heritage Event, Exhibition and Auction" at the IIFA Awards in Bangkok from June 21-24, 2018. Indian Cinema Memorabilia and Publicity Materials including film posters and handbills will be going under the hammer at an auction on June 23 in Bangkok, Thailand with the proceeds going to the working class film industry workers through the Federation of Western India Cine Employees (FWICE).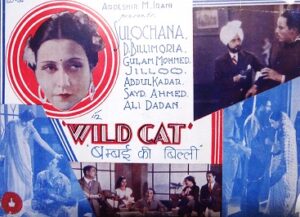 Auction prices for the Cinema memorabilia range from minimum Rs 10,000 to Rs 600,000. Here are some tidbits from the auction catalogue that highlights the world of the Bollywood film industry over the decades.
Gulshan Nanda — known as the "Harold Robbins" of India — dominated the Hindi paperback market for two decades from the 1960s with his stories bearing sensational twists, and the film "Kaajal" (1965) – starring actress Padmini — was a movie adapted from his novel "Maadhavi."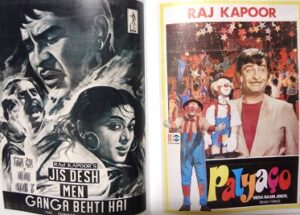 Bollywood actress Parveen Babi was featured on Time magazine's 1976 front cover, which highlighted her birth in a royal dynasty in Junagadh, Gujarat from where she went on to become a successful model and later an actress in B R Ishara's +Charitra+ (1973), while achieving fame with hit films like "Majboor" (1974) and "Deewar" (1975).
"Sher-e-Baghdad," a film produced/directed by Homi Wadia, highlighted 'Fearless Nadia' – India's most famous stunt actress — who was born Mary Evans in Perth, Australia. "Himmatwali," the first of her highly successful films that were usually directed by her husband Homi Wadia, launched her as "India's Pearl White" in actions films set in quaint settings like "Tarzan" land or Hollywood gangster movies.
"Ram aur Shyam" (1967) highlighted fame for actor Dilip Kumar, but it was "Gopi" (1970) that saw the film's net collections setting a benchmark at over Rs 100 crores (valued today by film pundits) that seems to be unequalled by other filmstars even today.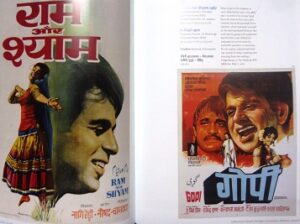 M F Hussain's paintings too are featured for auction in Seriagraph prints including "Mughal-e-Azam" auction-priced at between Rs 400,000 – Rs 600,000 for 18 prints.
A rare collection of 1930s films Handbills from leading film studios of India including Imperial, Ranjit Movietone, New Theatres to Bombay Talkies will be on auction and these include: Sulochana (1933), Anarkali (1935), Bambai ki Billi (1936), Karma (1933), Devdas (1935), Sultana Chand Bibi (1936), Jawani Diwani (1934), Khyber Pass (1936) and Swaraj Ke Sipahi (1937), among others.
An extremely rare mini-poster of the Bombay Talkies – featuring Ashok Kumar, Leela Chitnis in the classic film "Bandhan" (1940) — has come up for the first time with auction price of between Rs 60,000 to Rs 90,000.
Madhubala began her movie career — at barely age 14 — as a leading lady opposite Raj Kapoor in "Neel Kamal" in 1947. However, her breakthrough came with her haunting performance in Bombay Talkies' ghost story film "Mahal" (1949).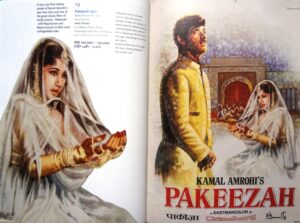 "Mother India" (1957) was the first Indian movie to be nominated in the foreign film category at the Academy Awards. K Asif's magnum opus – "Mughal-e-Azam" (1960) – highlighted a rebellious love story set against the splendor of the Mughal court, which witnessed a clash between the Emperor and his son, with a tragic ending.
For the first time, a poster of Bimal Roy's "Kabuliwala" (1961) has come up for sale in public auction. A very rare first release poster of Kamal Amrohi's epic love story and one of the great classic films of world cinema — "Pakeezah" (1971) – is set for auction at between Rs 100,000 to Rs 150,000.
"Pather Panchali" (1953), the film that brought India international fame through director Satyajit Ray, has its poster set for auction at Rs 80,000 to Rs 120,000. Ray highlighted the influence of Italian neo-realism through revolutionary use of performance and his shooting style.
Raj Kapoor's "Awara" (1951) – despite its fame in India – is noted for its success abroad where it swept Asia with record-breaking runs in the Middle East, China and was showcased at the 1953 Cannes Film Festival , besides being listed in TIME magazine's 100 greatest films made since 1923.
Dev Anand, one of Bollywood's most flamboyant stars, is remembered for his lover boy persona, fast dialogue delivery and rockstar swagger, and was counted among the golden trio comprising himself, Raj Kapoor and Dilip Kumar in the 1950s and 1960s films.
1972 witnessed Columbia Pictures releasing the film "Siddhartha" (featuring Shashi Kapoor and Simi Garewal) that was based on Herman Hesse's 1922 novel , and which won the "Silver Lion" awards at the Venice Film Festival.