South Indian Real Estate Developer Brigade Group has unveiled in Mumbai its "Brigade Financial Centre" (BFC) at India's first International Financial Services Centre (IFSC) in GIFT City, Gujarat.  Around Rs 350 crore will be invested in this project which is expected to set a benchmark in its development and attraction for companies in various spheres of activity, according to M R Jaishankar, CMD, Brigade Group.
Describing BFC as an iconic project in Gift City, Jaishankar said "BFC is a futuristic development comprising two towers of approximately half million square feet of space — with the first 3,15,000 square feet being already launched with 14 storeys — and this project is expected to be a much sought-after space in Gift City."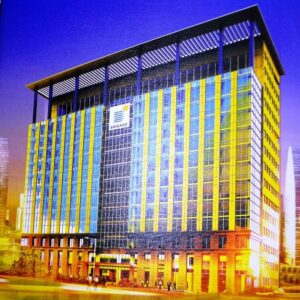 "The Brigade Financial Centre is the Brigade Group's first-ever project in an "International Financial Services Centre" and the Group is proud to be partnering GIFT City in this visionary initiative," he said while noting that this project would be catering to Indian and multinational banks, insurance firms, foreign exchange companies, financial technology firms and financial support services.
Vishal Mirchandani, CEO – Retail and Commercial, Brigade Group, said that with India's financial sector booming but presence of development with world-class facilities catering to the sector missing, the Brigade Financial Centre will be one of the few buildings offering the finest quality workplace environment.
Highlighting progress of the State and National economy as a joint effort among various resources including the prestigious Brigade Group at Gift City, Ajay Pandey, Managing Director and Group Chief Executive, Gift City, said the 900-acre Gift City has been envisaged as one-of-a-kind and projects like Brigade Financial Centre would make it a world-class facility.

The Indian Government has approved GIFT CITY as an International Financial Services Centre, and the Union Budget 2018 has provided it several major tax incentives in making it a major global financial hub on the lines of London, Dubai, Hong Kong and Singapore. Services provided by an IFSC include: Asset Management, Wealth Management, Global Tax Management, Risk Management, Merger and Acquisition activities, while activities here include: Offshore Banking, Corporate Treasury Management, Fund Custody, Administration and Custody, Securities Trading, Insurance, Assurance and Reinsurance, besides others.
"So far US$ 430 million transactions have been done in Gift City and many global exchanges will be visiting us, while several foreign banks and insurance companies are coming here. SEBI has come out with regulations that are changing the financial landscape in India. With exemption of Short Term Capital Gains tax, Indian investors will attract a large number of foreign portfolio investors from overseas, besides employment figures at Gift City expected to cross 9,000 jobs by March 2018 with 50% CAGR growth year-on-year," Pandey said, while adding "We have an International Dispute Resolution mechanism tied up with Singapore International Arbitration Centre (SIAC) in August 2017 and as many as 1/3rd of such cases decided in Singapore actually go from India. Also, Gift City is close to the "Bullet" train station which will become operational in 2021."