"Beauty is in the Eyes of the Beholder" goes a Greek saying, while another states "Beauty is only skin deep." Yet beauty costs. The market size of India's beauty, cosmetic and grooming market will touch a whopping U.S. $20 billion by 2025 from the current level of $6.5 billion, where annual growth is estimated to be 15-20% in the coming years – twice as fast than the USA and European markets.
Meanwhile, come September 2018 and Mumbai will dazzle with beauty and its accessories through the COSMOPROF INDIA two-day expo showcasing brands of finished products for Cosmetics & Toiletries, Beauty Salon, Hair, Nail and Accessories, and for the supply chain and other related industry. The Show will also highlight 'CosmoTalks' – a series of seminars by renowned industry players and experts focusing on the beauty sector with knowledge and insights on Indian market trends, raw ingredients for local industry, and specific regulations for entering the market.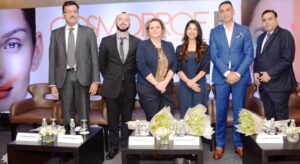 Yogesh Mudras, Managing Director, UBM India which is organizing the event with Bologna Fiere of Italy, said here recently that Mumbai is the fourth city to host this Show – after Las Vegas (USA), Bologna (Italy) and Hong Kong which generated business worth US $70 million. "Currently, India's cosmetics Industry market share is US $4.6 billion out of global US $274 billion. India's beauty industry is growing at 13-18 per cent – more than USA or European markets – and is expected to treble in size by 2025."
Mattia Miglio, International Marketing Manager, BolognaFiere Cospoprof, said that with around 360,000 global beauty professionals and 9,000 companies attending CosmoProf over the years, this first such expo in India would provide a platform for related Indian companies under one roof where 69 countries would be showcasing their wares.
"Overseas demand for India herbal and cosmetic products is increasing – despite India accounting barely one percent of the total global personal care industry – but changing lifestyles, improved purchasing power of women and growing personal income has led to this industry drastically metamorphosing over the past few years," Rahul Deshpande of UBM, said, adding "India's beauty and cosmetics market is expected to touch US $35 billion by 2035 with the market having grown by over 42% in the last five years.
"Today's scenario is witnessing lots of young people (especially 20-22 year-olds) visiting beauty salons for massages, pedicures, wellness, experimenting with hairstyles etc," noted Samir Srivastav, CEO, Jean-Claude Biguine Salon and Spa, India. "We are witnessing big demand in natural beauty services and products usage, with the buzzword being the 'natural organics space.' Skinyoga is one such Indian company that has made it to the global level. However, there is critical need for sourcing quality packaging in meeting the requirements of the global market," he said while pointing out that "Make In India" concept will benefit this industry with more accessible prices as the timing is right.
Jagriti Choudhary, CEO, Skinyoga, said with Indian companies coming out with 'Halal' skincare, 100% natural, vegan products that reach 29 countries globally, the scope of scaling up through the CosmoProf event is huge.
The last five years have witnessed cosmetics products growth by 60% including salons increasing by 35%, cosmetic treatments up by 5%, haircare 8-10%, and Spa and Body Treatment estimated to grow to approximately US $772 million over next five to eight years, a report stated, adding that this fast growth is due to increasing usage of specialty ingredients for formulations used in beauty products, besides today's market needs being driven by technical innovations.
With the global cosmetics market growing steadily at 4.3% CAGR to reach US$ 450 billion by 2025, India will constitute 5% of this global market to become one of the top five markets by revenue. By 2020, a pool of luxury brands like Labiocos, Bodyography and Victoria's secret are expected to clamour for the India consumer wallet and mindshare.
Herbal brands are expanding from domestic to overseas markets with exports for FY2015-16 being US$ 0.093 million and expected to grow at a 20% CAGR. According to CHEMEXIL, India is acknowledged to be – after China — the second largest exporter of herbal cosmetics to the world market that includes the UAE, USA, Netherlands, Saudi Arabia, Germany, Japan, Malaysia, Nepal, Sri Lanka, UK, China, Indonesia, France, Russia and Italy.
Going green is also the new mantra in the beauty fashion and lifestyle categories that are becoming eco-friendly in their product range, while consumers are seeking cosmetics with packages/labels that depict manufacturers complying with environmental ethics.
With internet penetration growing, beauty product companies are also increasing their online presence. The market drivers and trends include multi-purpose products having anti-ageing properties, moisturizing care and sun tan protection – especially among the working women population.