Gaming has come of age in the digital world as both producers and users compete in displaying their skills and dexterity in overcoming odds to emerge winners for claiming their right as kings in a digital universe, where space no longer remains the final frontier.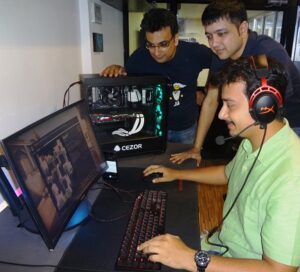 "When sports became culture, gaming stepped in by promoting various genres such as RPG (Role Playing Game). The 'Electronic Sports League' (ESL) – which partnered HyperX while entering India in June 2016 – is one of the biggest gaming events with top prize of Rs 10 lakhs then, and Rs 64 lakhs in 2017 before rising to Rs one crore this year in three season games (summer, fall and winter) in Delhi, Mumbai and Hyderabad," said Vishal Parekh, Marketing Director, HyperX, Kingston Technology Company.
"In the gaming scenario, the EPIC gaming tournament in the USA features a prize pool of US$ 100 million – more than the combined Wimbledon and FIFA prize pool amount — for global gamer participants, who travel with their own computers, and even their sleeping bags. Dreamhack – the biggest gaming festival globally – is coming to India (Mumbai) from December 21-23, 2018 and will feature concerts alongside events revolving around gaming."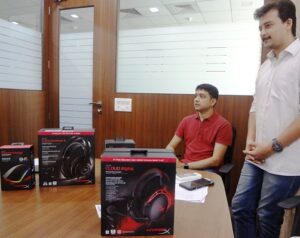 "Today, while comparing globally, we are witnessing a gaming revolution in India from gaming cafes with beanbags and serving snacks to tiny 'neon-lit-hotspots' and even more smaller spots (having gaming personal computers). There are over 1500 gaming outlets in India comprising 20-30 seats and charging Rs 80 to Rs 120 per hour, but this is becoming an emerging industry just like startups and also with franchises."
"The gaming market has changed in the last three years since it started and the needs of gamers have increased in demanding the best in their journey to be the 'numero uno.' Querying needs of gamers globally, we did 5 million headsets units that went fast despite our late entry in a market featuring big brands."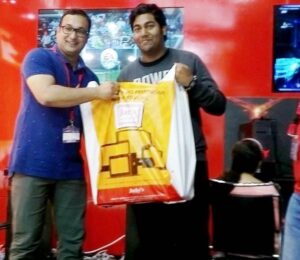 Parekh, while recently launching HyperX's "Pulsefire Surge Gaming Mouse with RGB Lighting" of its Kingston Technology Company, said "We consulted professional gaming teams and gaming enthusiasts on the form, fit and features in these products' design process – in our goal to complement the HyperX suite of gaming peripherals including this mouse which delivers pinpoint accuracy with 16,000 DPI resolution – besides over 5 million HyperX headsets being shipped worldwide. Our Cloud Alpha is the first gaming headset to integrate HyperX dual chamber technology in unrivaled sound experience for top eSports pros and casual gamers globally."
Besides designing products to meet the most rigorous demands of professional gamers in gaining the winning edge, HyperX sponsors over 20 gaming teams globally and is the main sponsor of Intel Extreme Masters and Dreamhack festivals. "We are supporting gaming setups with our investments in related products, while also promoting the games through competitions which people recognize as a skilled profession."
"While our global turnover was US$ 8.5 billion in 2015, we have since then crossed 50% of the Indian market in product sales, though our focus is more on community development targeting the stakeholders – gamers at entry-level, aspiring gamers, Pro-gamers, their parents (the ones who realize the value in gaming), non-gamers like Streamers and Casters. Realizing this, computer manufacturers are giving heavy discounts and prizes through shopping festivals and other events," Parekh added.
"Casters are gamers/ex-gamers who, as spectators, cast live games on screens without commentary, while Streamers are ex-gamers still in the gaming community but now as commentating spectators of games that they stream live videos on YouTube, Facebook etc," said Vaibhav Kulkarni, Kingston Technology. "So HyperX has hired budding Streamers to showcase their talents on our webpage, besides also other companies (like LG, NVidia ) doing the same on their webpages — since these pages together attract over two million gaming followers."
Fortune often favours the bold. Mark Rodrigues, an enthusiastic teenage gamer and engineering student in Dubai, struck gold on a visit to "Dubai GITEX Shoppers" at the Dubai World Trade Center in April 2016. Seeking to buy a suitable laptop for knowledge about career-related softwares like autocad, solidworks, etc, he entered a stall to participate in a gaming competition — organized by 'Jackys Electronics" – on the Lenovo IdeaCentre Y700 with an xbox controller.
Choosing to play 'Mortal Combat X' (despite being a first-time xbox gamer) against 40 competitors, he battled his way to the semis. However, losing a fun-practice game with one of the qualifiers afterwards led the lad to practic for 10 hours on his new controller before defeating the same rival in the finals to win a Lenovo Y700 laptop, Precision Mouse and Precision mousepad – on which he still plays games alongside his studies for his Mechanical Engineering degree in Goa.
However, there appears to be a downside to gaming. "Parents often frown on their kids spending even quality time on their computers and mobiles. Our focus is on creating awareness about gaming being a 'career" opportunity (as analysts or designing games), besides using one's free time to develop one's senses and also becoming socially-acceptable and breaking the language barrier," Parekh said, while describing one person named +Ninja+ of the U.K. as the "highest-paid game influencer" in the world who charges US$ 500,000 for participating in any gaming tournament.
"There are many other such top gamers who charge a few thousand dollars less than Ninja for their presence in gaming competitions, but the fact is that about 120 million 'gamers' can be found in India alone of which 90% play on mobiles and tablets," Parekh added.