Former union minister Kumari Shelja Rajya Rajya Sabha member in an exclusive talk at her Ambala Cantt resident expressed deep concern over ruling government in he country as well as in the state completely failed to provide relief to the people in every sector assured prior to coming in power.
She said Prime Minister Narender Modi has assured to wipe out corruption in the country within 100 days after coming to power, which proved failure as he neither control corruption nor bring back country's black money accumulating in in foreign banks as assured to people to attract Vote Bank.
Shelja said ruling government seems to be in fast sleep because not only 'Chhota Modi but also large numbers of businessmen managed to fle abroad cheating country's banks worth rupees hundreds crores in past couple of years similar to Vijay Malya decamped abroad after frauds in the county and government failed to nab them so far.
She said Modi government have proved a big flop in past over four years performance in the country blaming erratic BJP system resulted failure of government silent to speak anything except tall claims.
Shelja in reply to a question over 'Beti Bachao-Beti Padao' campaign expressed deep concern over increasing criminal activities reported in the state in past years raising a question mark over increasing crimes and ruling government's slogan 'Beti Bachao-Beti Padao' where 'Betis' are unsafe today.
Shelja said that fast increasing crimes against women especially minor girls in the state attracting headlines in the newspaper every morning have no affect on ruling government to take stern action against the criminals and it has become difficult for females to come out of their house not only after sunset but in broad daylight.
Shelja said farmers and businessmen in the country are worst affected by the government policies in past four years. She said, majority of youths in rural areas in Haryana state have lost interest in their family agriculture business due to unfavourable government policies towards farmers unable to recover cost of production on their crops as compared to minimum support price fixed by the government.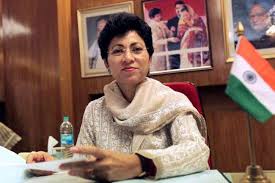 During Congress rule in Haryana state BJP leaders made semi-nude protests against the government but now is silent over present situation neglecting famers in the state and robbing them huge amount towards compulsory crop insurance scheme to please banks and control fast rising prices of fertilizers and pesticides as a result due to loss in agriculture business people residing in rural areas are deprived of education and have lost interest in  agriculture business in their future life. Shelja said that 'Notbandi' declared by the government and implementation of GST on trade and industry adversely affected people in business in the country and proved biggest scams till s far in the history of country completely ruined trade, industry and economy in the country, she said.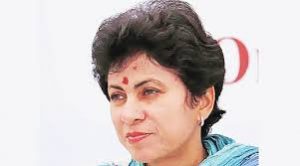 The former union minister said BJP grabbed power in the country on the basis of misguiding people in 2014 has failed to fulfil their promises made to people. In reply to a question as regard 'Rafel' issue raised by Congress Shelja said that only JPC investigation can only solve this issue but Modi government avoiding the same. In reply to another question as regard change in Congress management she said that Congress high command only is liable to take a decision in this regard and at the same timed denied that there is any rift between any Congress groups, rather blamed differences between BJP minister and Chief Minister in the state.
Shelja said that waiving farmers loans is an prime issue at present and UPA government had waived farmers loans of value worth 71000 crore in the country while in rule and would waive their loans after coming to power again. She said that the issue of waiving farmers' loans would be raised in Lok Sabha also.  She expressed concern over the farmers not being paid the cost of sugarcane worth crores of rupees supplied to sugar mills in Haryana state since a long time and ruling state government have not come to their rescue except making false assurances. Former MLAs Ramkishen Gurjar and Jasbir Malour were also present on the occasion.