Woh Jo Tha Ek Messiah Maulana Azad — the first-ever feature film on Maulana Azad — is set for release on January 18 this year in India and will highlight the life and struggle of this patriotic Indian scholar, activist and senior leader of the Indian National Congress during British rule in the country.

Details of the film's journey in the making-to-finished product were disclosed here today by the Producers (Rajendra Films), Mrs Bharati Vyas (Presenter), Directors (Dr Rajendra Gupta Sanjay and Sanjay Singh Negi), and Actor Linesh Fanse (who played the role of Maulana Azad.). The makers of this film later also held the 'Poster' launch and screening of the film 'trailer' for the media in Mumbai.
Actor Linesh Fanse recalled his entry into this film by describing how he heard that a film was being made on Maulana Azad – and also on Jinnah (his favourite subject that he would have loved to act as) – though he was finally chosen by the producers as suitable to play the role of Azad. "Main Swaraj Tyaag Kar Sakta Hoon, Per Hindu-Muslim Ekta Kabhi Nahi," he quoted Maulana Azad's famous words that have been used by him in the film.
"The message being sent through this historical biopic film is that we all – Hindu, Muslim, Christian — are one," said the film's director Dr Rajendra Gupta Sanjay, who wrote the film's story, screenplay, dialogues and lyrics. "While studying Maulana Azad, I happened to notice that his character was unique including his ancestors being the Moghul Emperor Babar, and that Azad always fought for Hindu-Muslim unity saying 'I am Hindustani first, and Muslim afterwards.' Hence I decided to make this film on him, while also highlighting unity as the greatest need of the country," he said, adding "Making such a film called for courage, dynamism and energy – all which I noticed in Sanjay Singh Negi whom I then chose as the Director of the film."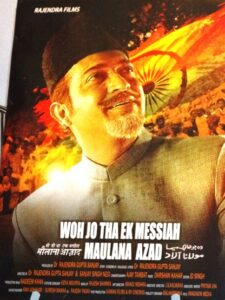 Replying to questions, Sanjay said the film was completed in a speedy 30 days time and journey that criss-crossed the cities of Delhi, Mumbai and Kolkata in a bid to follow the life and movements of Maulana Azad.
"My focus on the subject of this film had me dwelling on life in Pakistan where I lived and, even at 8 years of age, did'nt know about India-Pakistan's differences until Partition happened and I had to leave my residence in Karachi on a steamer to India," the film's Presenter Mrs Bharati Vyas said in a walk down memory lane . "However, tears still come to my eyes when I remember life in Pakistan then. Why did this batwara have to happen? Leave alone India-Pakistan, there should never be such a division anywhere in the world," she said while sadly recollecting that she had been refused a three-day visa to go to Pakistan in those days.
"Even today, the Pakistanis are saying that they did not want Partition but the politicians did it," said Vyas, while describing how she settled in India with old books about Karachi that she had saved, and did a variety of jobs that included film script translations, dubbing and live commentary that still remain her passion even today.
The cast of the film includes: Sirali (Zulekha Begum), Sudhir Joglekar, Arti Gupte, Dr Rajendra Sanjay, Arvind Vekariya, Sharad Shah, KT Menghani, Chetan Thakar, Sunil Balwant, Maahi Singh, Chand Ansari and Virendra Mishra.