"Diamonds are forever" was the famous James Bond film that highlighted the popularity of this costly precious stone in its charm over the ages. However, today, while many diamond owners often wonder whether such stones they possess are genuine or fake, made naturally by the earth's fiery powers or by laboratories, the International Gemological Institute (IGI), has stepped in to verify their genuineness through 100% certification processes.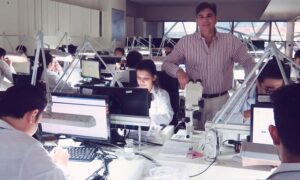 Tehmasp Printer, Managing Director, International Gemological Institute (IGI), said here recently "As the development of lab-grown diamonds has taken giant leaps and their presence among natural diamonds is on the rise, only a laboratory testing all the chemical and optical properties with the help of improved processes, can accurately distinguish between lab-grown and natural diamonds."
Growing value-consciousness among Indian consumers and the organised gem and jewellery retailers have driven a 25% growth in the diamond certification business, according to the IGI. "Indian consumers are increasingly seeking certified diamonds and gemstone jewellery – in the wake of recent scams that have impacted consumers sentiment and diamonds consumption in India – and this trend of certifying prized diamond possession is only expected to rise in the future," he said.
As upwardly-mobile Indians including Millennials and Gen Z are getting increasingly active in social causes, responsible consumerism and sustainability, diamond certification is helping boost customer confidence by providing precise, non-disputable grading results that are backed by objective technological processes of market leaders, pioneers and innovators such as IGI.
"The IGI, being well-equipped with technologically-advanced machines and scientists, has been safeguarding the interests of the diamond trade since 1999 through diamond grading and certification practices — including introduction of a mobile labs network that touches manufacturers and retailers even in small towns and metros to provide certification services across Indian and beyond."
"What began as a team of three gemologists has today become a 500-strong professional workforce in IGI's 15 branches across India, where a diamond is assessed on the basis of the 4C's (cut, clarity, color and carat) with the fifth C – Confidence in diamonds and diamond-jewelry grading and certification – paving the way to a highly optimistic scenario for diamond zealots across India," notes Printer, who is a Standard Committee Member of the international Responsible Jewellery Council, besides membership in "Standardization of Gem Testing Laboratories" and also the Natural Diamond Monitoring Committee of the Gem& Jewelry Export Promotion council (GJEPC).
Meanwhile, to redefine and restore consumer confidence and trust alongside reiterating the timeless legacy of natural diamonds, IGI has partnered with main leading jewelers in 24 cities across India for the "Own A Billion-Year-Old Diamond" month-long awareness campaign to cover auspicious festivals including Dhanteras and Diwali. "We ensure every tested diamond which is IGI-certified is a natural diamond and also a billion-year-old diamond. A diamond is born after billions of years amidst extreme heat and pressure when fragments of carbon turn into diamonds. With this initiative, IGI and associate jewelers intend highlighting this knowledge for diamond-lovers to make them feel part of this timeless story of the journey of the diamond from the mine to the market," Printer said.
Ramit Kapur, General Manager, IGI, said, "IGI's present diamond tests – at Rs 500 per carat — involve checking about 14 parameters in certifying a diamond as genuine, and around 200,000 certificates are issued per month in India. Peak days witness around 6,000 stones being tested per day and two lakh pieces per month in peak season at our Laboratories where 2-3 gemologists analyze the same stone before certifying the results. Each diamond checked by us has a tiny, particular number inscribed by laser on its girdle and often millions of dollars worth of diamonds are checked daily."
In 2017, global diamond consumption rose by 2.2% to US$ 82 billion with demand led by the USA and China, according to the Diamond Insight Report 2018 by De Beers. Demand for diamond jewellery is on the rise in India, as people's perception towards diamonds is changing and, considering the recent dramatic increase in demand for diamonds and diamond jewellery, the coming years seem to be more promising, according to IGI.