While Indians are seeking greener pastures abroad, one Indian has returned back to participate in Make In India and Skills India while ensuring India becomes a name synonymous with precision, quality, durability. Switzerland-based Indian scientist Dr. Rajendra Joshi has set up RS India – a joint venture between +Rajendra and Ursula Joshi Skill Development Private Limited+ and Swiss company +SRM Technologies AG.+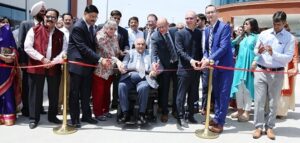 Inaugurating R S India's 'first-of-its-kind' Rs. 300-crore +Swiss Precision and Assembly+ plant at Mahindra City In Jaipur today, Dr Joshi said this state-of-the-art plant featured advanced machinery and technology imported from Austria, Switzerland, Germany and Japan, and would highlight 5650 MT production per annum, besides generating 250 jobs. A major portion of the plant's products would be exported, while the company continued to explore the domestic market to utilize its full production capacity, he said, adding that Swiss orders will be manufactured the Indian manufacturing facility and then exported.
Production here included manufacturing and assembly of a broad spectrum of products from prototypes to large-scale production including high-precision parts, metal anodizing, painting and heat treatment, surgical items, cutlery and other products in various sectors like Health and Medical, Automotive, Polymechanical, Machine Automation, Laboratory technology, Photo technology and Aerospace – where precision parts played a crucial role.
Noting that the manufacturing sector is one of the driving forces for the Indian economy, Joshi said that enormous opportunities existed in supplying the global and domestic machine industries which sought high-quality, precision-machined components for their products – that could not be met by local producers.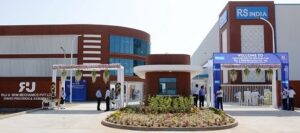 Emotional attachment to India drew him back to Jaipur from Switzerland to Make In India and Skills India, which fell in line with his long-time dreams of showcasing the country's skills and ensuring a prosperous economy, the Octogenarian scientist said while adding "I hope the Indian Government has a single window instead of having to fill all those forms for such projects."
"Indians are good in theory but poor in handwork (practical) and basic training as polytechnicians will be provided – especially to the unemployed – on a cost-covering basis through the plant's training centre, besides also later inviting all Indian states and industrialists to witness the functioning of my project here. So far, many states like Haryana, Punjab, Maharashtra, Tamil Nadu have approached me about the project, but I have asked them to wait till my Swiss team is in place as I want Swiss work culture — which has witnessed Switzerland winning 8 Nobel Prizes — to permeate Indian working," he said.
Lamenting the frustrations of bringing this idea – unsuccessfully — to the Indian Government (about ensuring India working quality control on par with Swiss precision), Joshi said his idea had borne fruit now through this plant being set up in Jaipur and sourcing for metals used in precision manufacturing being India-wide or — if not available locally — then abroad.
"Our Woodcraft, Elecon and Rufin companies have got investment of Rs 100 crore each and will need more investment later on, though Rs 1,000 crore has been put into the group so far. I am an entrepreneur, not a philosopher, and I am not looking at competing with Tata, Birla but instead focusing on creating a good working model that will put  money back into the system
Joshi's story is unique. He is mainly credited for invention of Tecfidera (BG 12) – which is used successfully in oral treatment for multiple sclerosis. However, the Scientist – with his wife Swiss pharmacist Ursula – wondered why the Swiss, German and Austrian economies appeared sound and unaffected even in crisis' like World War II. The reason became soon clear. The difference lay in the skilled workforce of these three countries being over 92% including academicians, through a system of apprenticeship education called the "Swiss Dual System" – meaning theory in vocational school and practical training "on-the-job" in industry.
Excited by the Swiss dual system but failing to convince – since 2006 — both Government and industry to support this system in India, Joshi and Ursula set up a state-of-the-art "Bhartiya Skill Development Center" (BSDC)  Institute —  with Rs 150 crore investment and led by a Swiss team with support of Indian team of trainers. This Institute, with Rajasthan Government consent, has become a University – the 'first-of-its-kind' in India – and its diploma-holders will be absorbed in the company's manufacturing units, Joshi said.
Meanwhile, Joshi has also set up other industries including RUJ Food Industries (dairy products), RUJ Elecon (electrical installation projects for other industries), RUJ Woodcraft Pvt Ltd (apprentice for carpenters),RUJ Hospital (world class medical facilities with both Indian and foreign doctors.
Jayant Joshi, Managing Director, RUJ & SRM Mechanics Pvt Ltd, said "The plant will be initially completing orders received from SRM Technologies as their Switzerland facility is operating at its optimum production capacity and has two years order pending in advance. SRM Technologies' regular clients include global companies like Siemens, Roche, Schneider Electric, Sika, Leica, Audi, Metalaire, among others and the newly-constructed plant in Jaipur will manufacture precision parts for them in our exports as per orders."
"RS India's machines are equipped with programmable visual systems that complement and enhance process control capabilities, while also reducing inspection time, eliminating human error and generating real time statistical data to ensure constant quality monitoring. The plant's manufactured products include high end quality components (and even assembly later) for the automobile industry, besides focus on the same for medical devices and 3D printing. The project investment comprised 70% Indian and 30% foreign through Rs 300 crore invested so far without any further investment need for the next five years. The plant will manufacture 60% products for the domestic market and remaining 40% for exports," he said.
Peter Strebel, CEO of SRM Technologies, AG, said with competition among developing countries becoming fiercer, Indian producers are disadvantaged by recent economic gains that have driven up the price level and reduced the competitiveness of Indian and Swiss products. To sustain their lead, Indian manufacturers are increasingly emphasizing the importance of efficient and effective production in compliance with international standards. Acknowledging these challenges, producers in all industrial sectors are continuously striving to improve and upgrade production processes and we are doing so through SRM's legacy of producing excellence through RS India."
Noting that the company planned to start manufacturing from January 2018, which has been delayed and that its employees are going  to Switzerland for few months further training since September 2017, Herbert Rosenast, General Manager, R S India said "Any outside industry can approach them for their needs of precision manufactured parts and machines such as weighing machines. We are open to meeting needs of all sectors of industry and the past two days have seen companies visiting us to find out how we can work together."