Mahindra Truck and Bus (MTB) recently launched its BLAZO X, HCV range of trucks, an upgrade of its popular BLAZO trucks. The BLAZO X addresses the rising fuel cost woes of transporters by delivering higher mileage than the BLAZO and ensuring a unique and unmatched mileage guarantee of 'get more mileage or return the truck', said Rajan Wadhera, President, Automotive Sector, Mahindra&Mahindra Ltd.
Wadhera said the BLAZO had pushed the boundaries for Mahindra since its launch on several fronts – whether volumes and market share or industry first guarantees that laid the foundation for a turnaround of the business. "Given the spiraling fuel prices, the new BLAZO X series of HCV trucks would create higher benchmarks in performance and earnings," he said.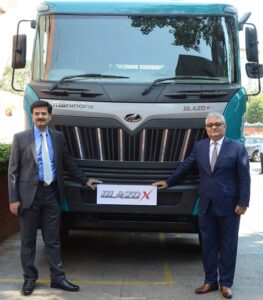 Vinod Sahay, Chief Executive Officer, Mahindra Truck and Bus Division, Mahindra & Mahindra Ltd., said the launch of the BLAZO X would further strengthen the company's position in the market. "With 21,000 BLAZO trucks already on Indian roads, our BLAZO range of HCVs are well entrenched in important segments such as car carriers, tankers, cement bulkers and the coal industry, with their proposition of best value for money brand, mileage superiority and low cost of ownership. Today, MTB is well on its way to becoming a formidable force in the Indian CV market by being the number 3 player in certain segments and markets and — going forward — we intend to be the number 3 player in the overall HCV segment," he said.
"The CV Industry has been impacted by increase in crude oil prices, commodity inflation, axle load norms and higher momentum in infrastructure spend. With highways improving, truck speed is reaching car speeds and having the same trip time advantage. The freight rate has not kept pace with rising fuel prices – which is 60% cost component of the truck. The new BLAZO X incorporates a "Electronic Viscous Fan" which automatically starts cooling engine heat when necessary."
The new BLAZO X features improved efficiencies in the vehicle's air management system, rolling characteristics, and the vehicle's rotating parts among others. Fuel is a major component of a transporters' operating cost and the launch of BLAZO X comes at a time when fuel prices are continuing their upward spiral. The new BLAZO X series will be available in haulage, tractor-trailer and tipper and is equipped with the BLAZO's hugely successful FUELSMART technology.
The company also announced setting up of its express North-South Service Corridor on the 3,800 kms long stretch, from Kashmir to Kanyakumari. This comprises 41 service touchpoints — one every 100 kms — with a guaranteed service reach of 4 hours or Rs. 500 compensation for every hour of delay. This is the second such corridor after the Mumbai-Delhi service corridor which caters to nearly 30% of truck movement. Two more new such corridors will be launched between Chennai-Kolkata and Chennai Mumbai soon, the officials said.
The officials said that within just 2.5 years of the BLAZO HCV series launch, MTB has witnessed substantial increase in volume and doubled its market share growth. MTB's HCV volumes grew by 79% — as of H1-FY2019 — compared to a 56% industry growth, garnering a market share of 4.9%.
Replying to questions, the officials said that due to emissions laws, vehicle demand will keep pace and the company has been growing strong at a faster rate than the industry, even as customers keep evolving alongside new gen transportation.