Mumbai's first state-of-the-art "Audiology Department and Hearing Services" was launched at the city's multi-specialty Society for Rehabilitation of Crippled Children (SRCC) Children's hospital — managed by Narayana Health — in the city on Monday.
Dr Vikram Tannan, Director – Geltec Pvt. Ltd., was the chief guest at the event.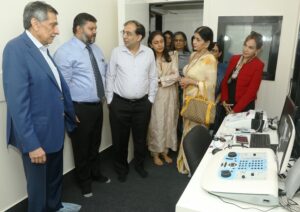 The Audiology Department and Hearing Services will comprise a team of renowned pediatric ENT experts like Dr. Prabodh Karnik, Dr. Kamruddin Ezzy, Dr. Kamal Parasram, Dr. Manohar Shaan and Dr. Arpit Sharma under the leadership of Dr Milind Kirtane, the hospital sources said.
Dr Prabodh Karnik, Sr. Consultant, SRCC Children's Hospital, said while it is commonly known that a baby can hear in the womb, an infant not being able to hear at birth is like not only a disaster but also a calamity for the child and relations, as even partial hearing kids witness speech defects, scholastic learning process and so on.
"Fortunately most of hearing-related problems are corrected through cochlear implant surgery, thus enabling kids to integrate into society," he said while noting that hearing assessment is done easily with adults, but with great difficulty with children which requires special skills, equipment and specially-created soundproof environment – which is present in this hospital – besides also hand-held devices presently available to test infants hearing at birth and thus avoid them consuming medicines that later become toxic for them.

"The present system is housed in a scientifically-created, sound-treated silent environment and boasts of modern equipment to recognize, accurately calibrate and document hearing loss in children from age of day 1 to 18 years. In treatment of ear and hearing disorders, reliable measurement of hearing loss is absolutely essential, and we hope to benefit a large cross section of society," he said, adding that the hospital's newly-launched Audiology Department and Hearing Services will provide post-operative audiology services to needy patients.
Deeming it as unfair to even the poorest of kids to not be availing the best of medical treatment, Dr Milind Kirtane, Sr. Consultant – ENT, SRCC Children's Hospital, spoke about the Universal Newborns Scheme and urged for beginning earliest medical intervention to produce quicker positive results.
"To train a one-and-half year old deaf child, or even SLT therapy for a child with cleft lips would have been difficult without this latest installed equipment," he said while pointing out that surgery comprises barely 10% of rehab treatment for the patients.
"Infants and younger children with early diagnosis of hearing loss stand to benefit the most from an early intervention promising normal growth as a normal child. This center will cater to detection of hearing loss in newborn, infants and young children."
Besides launching one of the largest blood banks for paediatric needs in Mumbai, the SRCC hospital also successfully completed 500 paediatric cardiac surgeries in a record one year's time since its inception 18 years ago. These 500 children were screened from the 1500 children who had attended cardiac camps which were held at Mumbai, Pune, Nashik, Sangli, Kolhapur, Amravati, Beed, Satara, Malegaon, Daund, Nandurbar across Maharashtra.
The Society for Rehabilitation of Crippled Children (SRCC) was registered under the Societies Act, 1860 and the Maharashtra Public Trust Act 1950, before being established in 1948 to start Children's Orthopaedic Hospital to assist children affected by polio. So far, the SRCC has provided healthcare benefits to 100,000 children, and focuses on organising hospitals and clinics for diagnosis, care and treatment of disabled and other children needing any other medical treatment.
To create and educate public opinion on the problem of such afflicted children, its first effort was to establish the Children's Orthopaedic Hospital to look after children afflicted by poliomyelitis. As this crippling disease was gradually eliminated, the society started offering its services to children. In 2009, a separate CENTRE FOR CHILD DEVELOPMENT was established to offer a variety of therapies on out-patient basis, namely physiotherapy, occupation therapy, speech therapy, education therapy and psychotherapy. The education therapy department assists children in a variety of board examinations.