The $5-$6 billion Indian Rubber Industry is planning its 10th Indian Rubber Expo 2019 roadshow across 15 cities in India – beginning from Ahmedabad — for creating related awareness, opportunities, while also bringing together industry professionals on one platform to highlight innovative solutions, business opportunities and changing market trends, said Vikram Makar, Chairman, Indian Rubber Expo 2019.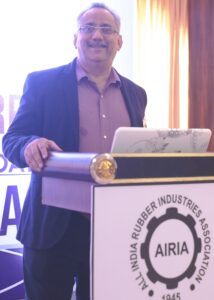 "With a ready-made market, and the value-addition India provides, it has everything for the sector to grow including entrepreneurial ecosystem and a robust physical infrastructure. The industrial ecosystem in India is the obvious consumer for next generation production technologies that will be on display. However, rising petroleum prices are causing severe inflation in Polymers side and demand for more capital as banks are becoming extremely tight in lending and the volatility of the Indian Rupee — which is depreciating in comparison to the US dollar–based crude oil prices — affects the rubber industry, " Makar said.
"Any Rubber plant set up needs 100,000 tonnes plus production to start with and the Government must initiate investment movement as we have technology and demand but are lacking capital for investment. Sadly, the present political environment is not pro-industry," he lamented.
Describing the shortage of "Carbon Black" which is essential in manufacturing rubber, he said the present scenario is witnessing demand beyond supply capacity, and the ground reality is that there is no tangible capacity expansion for carbon black except for an announcement of one such player starting a new plant in South India.
"Global availability for carbon black has eased and China has emerged as its major manufacturer, besides us (Indian Rubber Association) witnessing new such startups in Korea. Although carbon black is a just the end byproduct of petroleum "cracking" from crude oil (waste used to burn for energy), its prices in India are still at a premium," he noted, adding "Carbon black manufacturing requires 'combustion', environmental impact study, etc. Even if the Government okays setting up this plant, investment of time, capital and technology needs a learning curve also."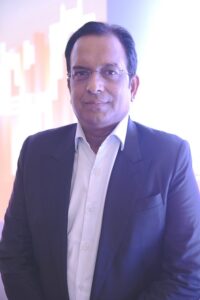 "There is no encouragement from the Government and our capital assets are "aging" in being economically functional or viable. We would require millions of dollars to retrofit our manufacturing technology in this regard. The Government should have a +Regulatory Body+ to help "Source and Bridge this Gap" of rubber-industry needs from around the world, especially from China. Where the anti-dumping duty is concerned, it is affecting other sectors of industry too."
"The Government is envisioning 8% to 10% growth in the rubber industry, but how will this happen if there is no related material supply availability? There is strong pressure on the non-tyre segment, which will lead to unemployment," Makar said while emphasizing that "The Government Ministries of Finance, Commerce& Industry, Petroleum&Chemicals need to study the 'lacunae and loopholes' in this regard, besides formation of a +transparent, fast-track mechanism+ that will look at the rubber industry's relevant +upstream and downstream+ issues and solutions."
"The $5 billion to $6 billion rubber industry in India — fragmented into 2,000 units – comprises the non-tyre segment (40%), which is ignored in favour of the tyre segment. The Government should study this and come out with +specific reliefs+ as there are areas where correction is needed."
"The Government should be +sensitized+ about inflationary trends and material shortage alongside increasing prices in India. Unless Government steps in with a helping hand, small manufacturers cannot think of concentrating on or envisioning future expansion, and small units cannot look at CAPEX but only focus on their present needs and functioning. With petroleum prices rising spectacularly in India, we (Rubber Industry) are wondering whether we will survive," Makar added.
Vishnu Bhimrajka, Chief Convenor IRE 2019, anything affecting crude oil affects the related industry including raw materials for rubber production. India needs synthetic rubber and the Indian Government is quite proactive in this regard, while Reliance has one synthetic rubber plant and plans to set up another such plant.
To a question whether the IRA could jointly set up their own carbon black plant, he said that one or two companies are making 50,000 tonnes to 60,000 tonnes of carbon black but it's for their own consumption. "However, our industry is fragmented and the rubber producers in India are 90% MSME. There is need for a +cooperative –carbon black–movement+. Also, Carbon black comes in different varieties for use in various purposes," he said, adding "Ultimately, the Government has to contemplate whether they want to protect MSMEs and SMEs like us which require large quantities of carbon black and rubber — to support India's economic growth — in meeting the +critical needs+ of industry sectors like automobile, railways, defence etc."
"The rubber industry is suffering not only from lack of carbon black availability, but also due to Government policies such as "Anti-Dumping Duty" that was levied four years ago. Carbon black prices have risen from Rs 70 per kg to Rs 100 per kg today, which the Government needs to look into and do something positively for the rubber industry," he said while stating that there are three functional manufacturers and four partly-functioning makers of carbon black in India.
"The Indian growth story now no longer needs to be authenticated as India is set to become one of the largest +Rubber Hubs+ globally," Kamal Chowdhury, President, All Indi Rubber Industries association, said, adding "In the coming years driving the surge is the growing industry, which has come out in a big way to carve its fantastic growth trajectory."