As many as 70 units manufacturing stainless steel pipe in Haryana state producing more than 8000 tons pipe every month are facing severe crisis due to import of steel pipes from China at much lesser prices as compared to indigenous pipe as a result the production of local steel pipe manufacturing units have reduced more than 30% due to slump in sale because of higher prices as compared to steel pipe imported fro China. Talking to The Financial World the Secretary of North India Pipe Association Deepak Gupta said that as result of 150% increase in import of steel pipe from China sale of indigenously produced steel pipe has drastically reduced in past sometime.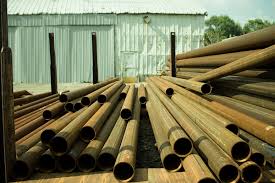 Sources said there nearly 175 steel pipe manufacturing about 16000 ton units in the country include nearly 70 units in Haryana state and Hisar district is popularly known as  'The city of steel tubes' since year seventies when the town was having eight large steel pipe manufacturing units and four steel furnace plants in which every 20th persons in the area was employed having turnover of more than Rs 250 crore having about 20% share  in the country's total production as told by Hisar entrepreneurs expressing worry over slump in coming years in India markets due to CIS countries including China and Korea started dumping steel pipes in country's domestic markets and the landing cost was much lesser than the domestic steel prices and most of the units turned sick.
They told that the fierce competition took its toll on the industry started facing tough competition with local as well as steel manufacturers from Punjab and Gujarat states another large steel pipe manufacturing states in the country having neck to neck price war, which drastically reduced the margins and production of several firms forced to cut down utilising their one third production capacity running single shift. According to steel pipe manufacturers, introduction of PVC pipe badly affected the sale of steel pipe industry as consumers prefer low weight PVC pipes lighter in weight and cheaper than steel pipes, which snatched more than 30% share from steel tubes.
According to manufacturers of steel pipes in th country, an 'Hawala Ntwork' operating from Mumbai and Chinnai is active in conspiracy to save custom duty on export of steel pipe despatched from China to Indian markets via Vietnam, which is cheaper by nearly 25% thus saving custom duty on export from China and GST on the sale.
Sources said large numbers of industrial units producing steel pipes in Vietnam are being financed by industrialist in China for onward supply to India at Kolkata, Chinnai and Mumbai ports as well as in other countries sold on proper billing and on-line payments as per rule under the guidance of 'Hawala Network' involved in these transactions.